If you are interested in selling your home, you may be wondering which updates will add the most value to your home, all while helping your home stand out against competition. With the kitchen being one of the most memorable areas of the home, you will want yours to make a first and lasting impression.
With the current economic situation, it may be more in your best interest to make minor DIY (do it yourself) upgrades to your kitchen. There are many benefits associated with making DIY updates, some of which can include affordability, less extensive installing processes, and the ability to increase your return on investment all while focusing on smaller upgrades. Putting meaningful time and effort into your own home project can also add to overall clarity and mental wellness. Some essential DIY updates can include updating your cabinetry, lighting, amenities, and background features. As you are preparing to sell your home, consider these kitchen upgrades that can help your kitchen become the heart of the home for buyers.
1. Cabinetry sets the tone for the kitchen
 Repainting is one of the most popular and versatile kitchen cabinet upgrades that can be accomplished within just a matter of days! By adding a fresh coat of paint, you will be able to make them look brand new, all while undergoing a short and simple process. Currently, white or grey are the most popular colors, and are the most appealing to homebuyers.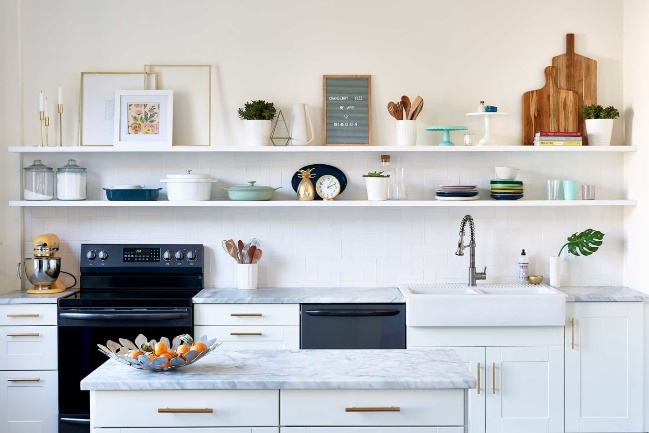 You can also update your cabinetry by replacing the cabinet hardware. This can include updating the handles, hinges and drawer pulls. Be sure to match the hardware style with your kitchens overall style for the best look. The most important component of updated hardware is functionality, so make sure to avoid small latches and slippery knobs.
If your kitchen has updated cabinets already and you are looking for some additional versatility, consider adding shelving units. Consider utilizing your open space away from the stove to put in a shelving unit to hold essential kitchen items, cooking books and/or plants. It can add a hint of style and diversity to your kitchen. Also consider using a contrasting paint color or wood finish for the shelf to add a stylish accent.
2. Upgrade lighting fixtures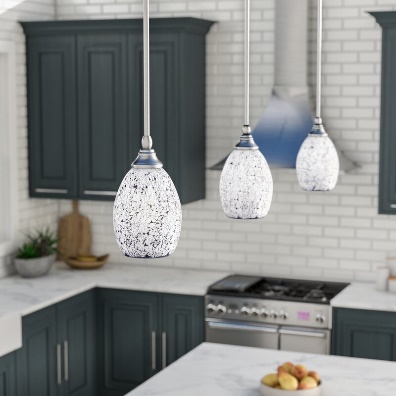 Are you growing tired of looking at your outdated ceiling fan or light fixtures? It may be time to replace the florescent lighting in your kitchen with something more modern. You want to be able to grab the attention of the buyer the minute they walk into the kitchen. By installing sleek fixtures like pendant lighting or even changing the type of light bulb for additional brightness, you will be able to contribute to a more contemporary kitchen. You should also consider installing light in dark areas of your kitchen, like underneath your cabinets, to diversify your lighting options.
3. Upgrade kitchen amenities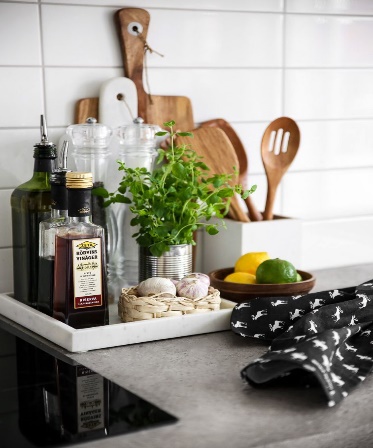 As you are preparing to sell your home, your main goals are to have your home appeal to homebuyers and stand out against your competition. This can be accomplished by having your kitchen include unique or creative features. These features and their ability to sell can vary depending upon your location, price point and comparable properties in your neighborhood. You can consider adding trays, baskets, a utensil rack, in-counter storage, or even a built-in paper towel dispenser. Of course, there is no need to go above and beyond but if homes in your area have any of these features, yours should as well to maximize your potential offer.
4. A fresh coat of paint is a great final touch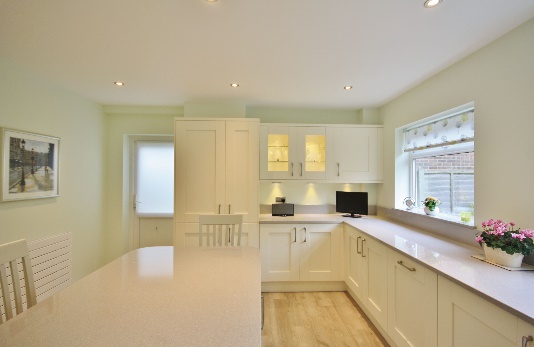 Are you beginning to grow tired of looking at your outdated wallpaper or dark painted walls? Odds are if you are ready for a change, potential buyers are as well. If you are somebody that has outdated wallpaper, it may be time to take it down, prime the walls and prepare for a fresh coat of paint. If you are somebody that has dark painted walls, it may be time to head to your local hardware store and begin comparing neutral paint colors that go with your overall kitchen concept. When it comes to painting the walls and ceiling, be sure to go with a white or neutral color so the buyer can envision how to personalize the space for their new lifestyle.