Why Home Ownership is the Key to Building Wealth
It is an established financial principle that homeownership is the key to wealth building. In fact, most recent data certifies that home ownership, regardless of income level, is one of the biggest positive drivers of wealth creation. The Federal Home Loan Mortgage Corporation recently quoted home ownership as the cornerstone to the "American Dream," as it provides families with a place that is their own as well as an avenue for building wealth over time. This wealth is accrued by the creation of equity, the difference between the market value of your home and the amount you owe the lender who holds the mortgage. As you continue to pay down your principal balance and your property appreciates over time, you enhance your financial stability.
Is homeownership truly a better path to wealth than renting?
Many argue that homeownership is not a viable investment, and rather a liability as it's taking from your income instead of generating income. While others argue that renting is the route to stress-easy living, but when it comes down to it, renting does not build your wealth as you aren't generating passive income for yourself, and your payments aren't being invested towards a hard asset. Rather, your rental payments are being invested into your landlords' wealth via his/her mortgage and their additional expenses (property taxes, insurance, repairs, etc.), along with a profit margin. Homeownership will always be a better path to wealth as it will contribute to your net worth.
In support of this, the latest Home Equity Insights Report from Corelogic reported four major findings that supported in the link between homeownership and wealth:
U.S Homeowners with mortgages have seen their equity increase by a total of $1 trillion since the third quarter of 2019.
The average homeowner gained approximately $17,000 in equity over last year.
The average household with a mortgage now holds at least $194,000 in home equity.
There's been a 10.8% increase in equity over the last year.
Here's a breakdown of the year-over-year equity gain by state: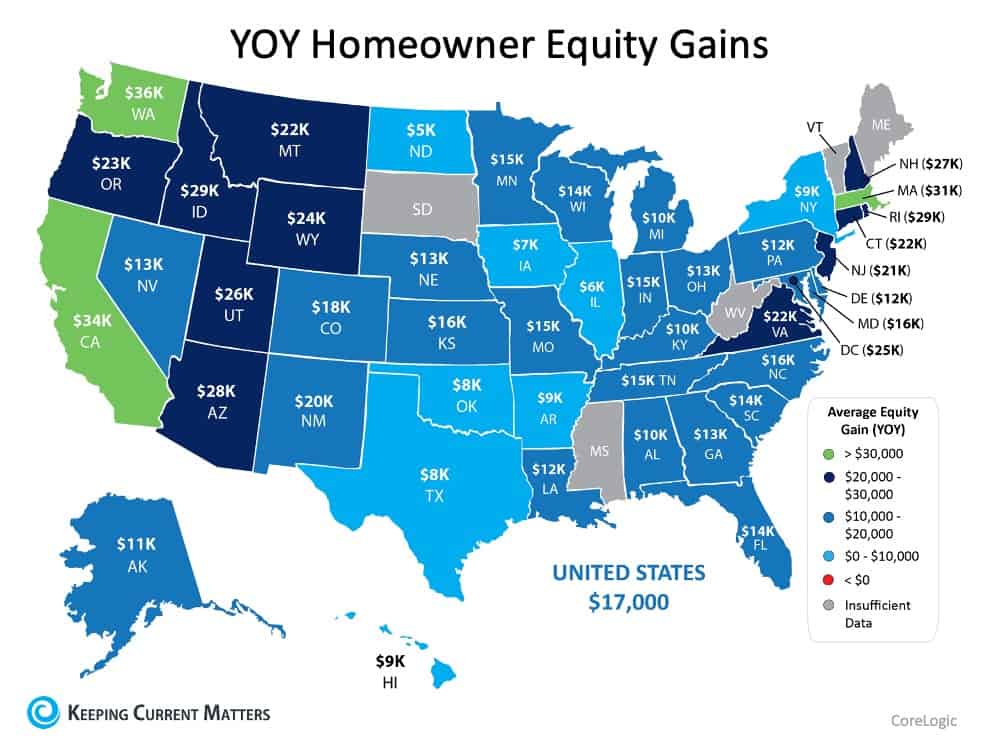 Source: https://www.keepingcurrentmatters.com
When can you cash in on your housing wealth?
Your home equity is part of your wealth as a homeowner. There are many ways homeowners can leverage their wealth, but the two most common ways for homeowners to cash in on their housing wealth are by selling and/or refinancing.
When selling your home, the equity you've built up over time will be yours at the end of the sale. To paint the picture lets have an example, if you had a mortgage of $235,000, you paid off $105,000 of the mortgage and sell the house for $275,000; you would receive a gross profit of $145,000, before seller closing and other transactional costs.
When refinancing your home, you can either refinance to reduce your interest rate, cut monthly payments, or tap into your home equity. The most popular refinance is a cash-out refinance, where you can take out some of the equity you have accumulated. When refinancing, you get a new mortgage. The new mortgage pays off the balance of the old home loan, and normally you're able to cash out 70-80% of your loan to value. But when refinancing, its required that you apply for the loan to then qualify. You'll have to file an application for refinance, go through the underwriting process and close on the transaction.
How can these options help homeowners?
Throughout these difficult times, many households have been struggling with their housing and living expenses. Fortunately, homeowners have the upper hand here, where many who have experienced a financial hardship can qualify for mortgage forbearance and repayment plans. Additionally, homeowners who have substantial equity in their home have even more alternatives. Deputy Chief Economist at First American, Odeta Kushi, recently stated that homeowners impacted by the pandemic will not necessarily be faced with foreclosure because with equity, homeowners have the option to sell their home or tap into their equity through refinancing to help weather the storm.
What might the future bring?
Budget experts are predicting home prices will continue appreciating as we move forward. The Home Price Expectation Survey, a survey of a national panel of over one hundred economists, real estate professionals, and market strategists, reported that appreciation of home prices will continue for at least the next five years. By using their projection, the graph below shows the equity build-up a potential buyer is projected to earn when purchasing a $300,000 house this January: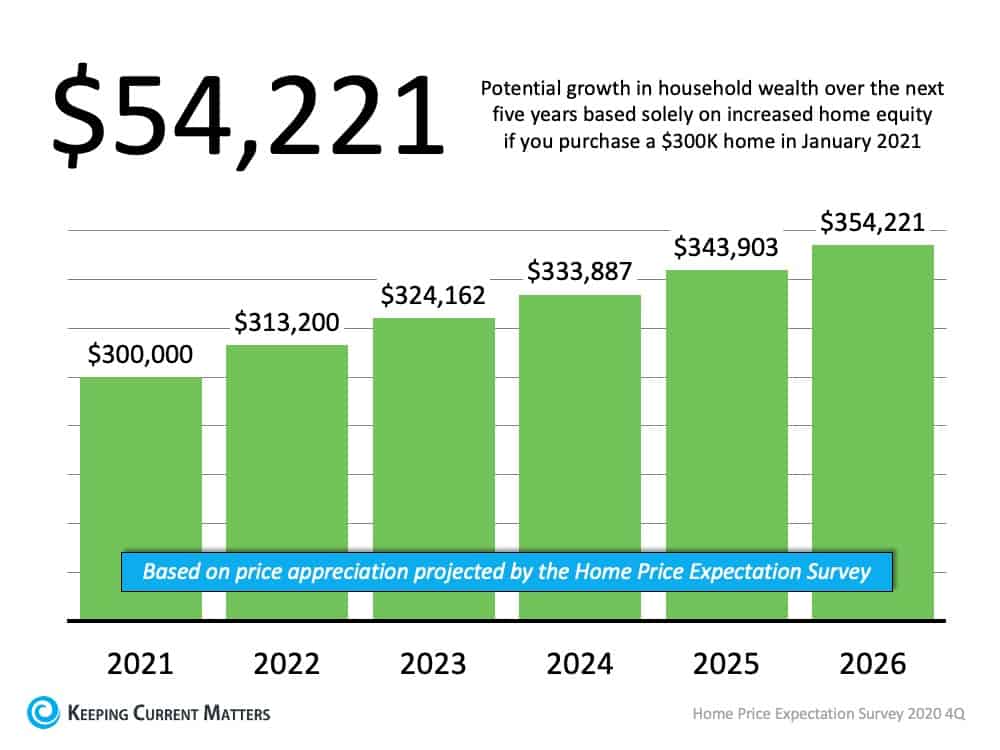 Source: https://www.keepingcurrentmatters.com
For many Americans, home equity is the quickest way to build household wealth. Building home equity, however, is a long-term investment but this wealth gives homeowners more options during both good and difficult times, all while continuously contributing to their overall net worth.